Project Summary
Overview
A predictive digital twin is a virtual simulation of connected biological entities that continuously assimilate sensor updates to mirror the life cycle of its corresponding biological system. AIIRA will deliver theory, algorithms, and tools (software and hardware) for the principled creation of AI-driven predictive digital twins at the individual plant scale, as well as the plot and field scale. The advancements directly apply to climate resiliency, sustainability, and producer profitability; coupled with a social science thrust to maximize stakeholder understanding, thrust, and acceptance. Our research is driven by three different research thrusts and two cross-cutting research thrusts.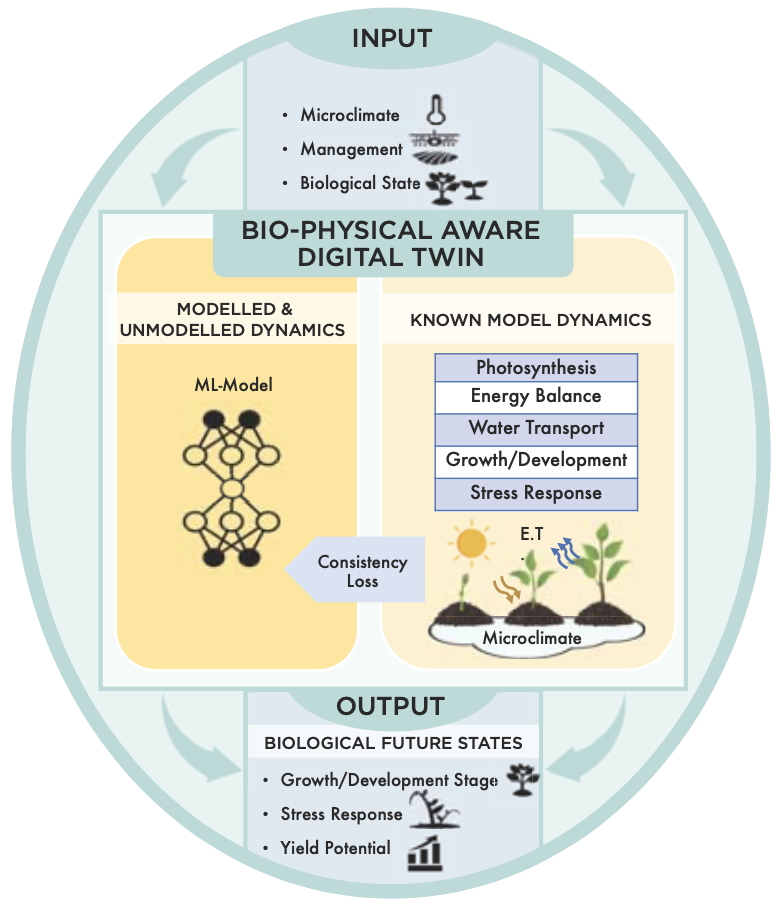 Digital Twin Schematic
---
Research Plan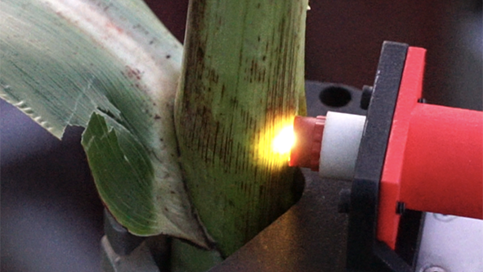 Thrust 1
Model Development
Feed, build, and autonomous feedback to the digital twin
Explore Details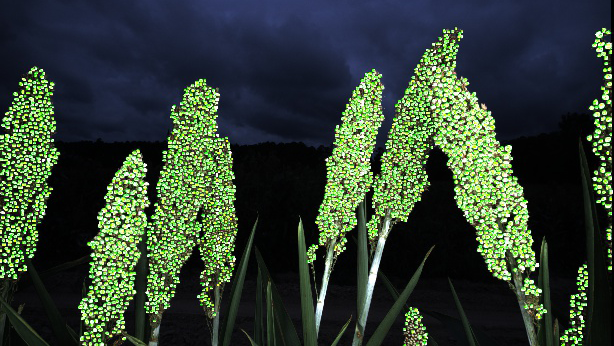 Thrust 2
Model Deployment
Digital twin for accelerated breeding, substainable and profitable Ag production of resilient crops
Explore Details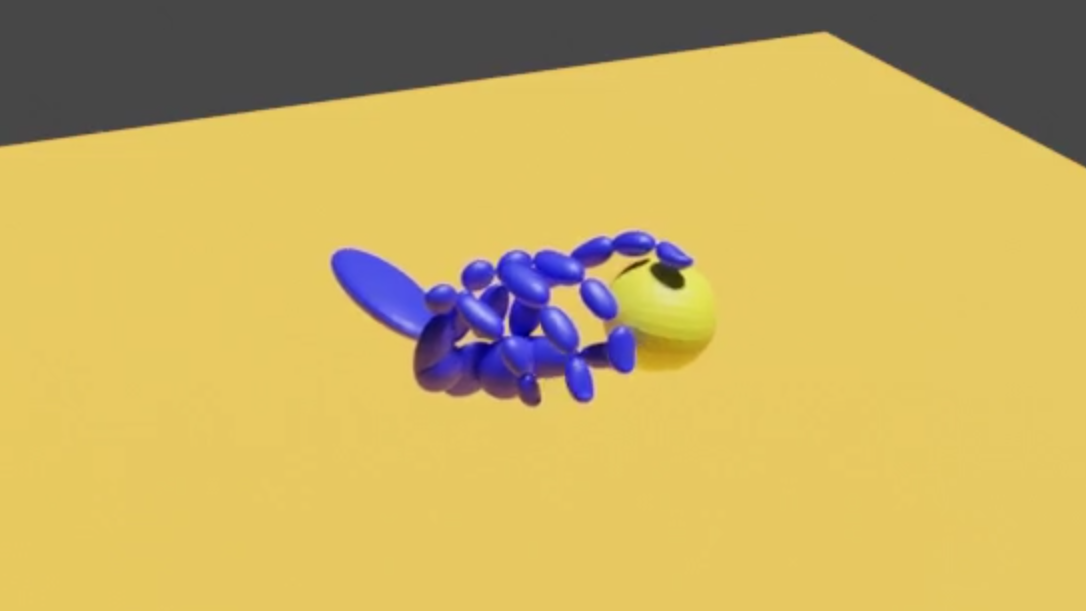 Thrust 3
Model Adoption
Understand barriers for acceptance and trustworthy AI
Explore Details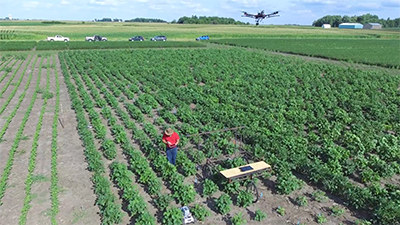 Cross-Cutting Thrust 1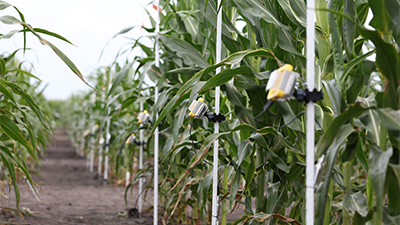 Cross-Cutting Thrust 2
Cyber-Infrastructure
Cyber-Infrastructure to democratize AI innovation
Explore Details
Thrust 1 (T1): Model Development
We will build the twin through foundational AI advances necessary to realize predictive modeling. There are three main components to this investigation:
Feeding the Twin with new techniques for data gathering and processing that get the inputs we need for it
Modeling the Twin with new techniques to train deep nets and other machine learning approaches in the face of limited available training data and exploiting constraints from domain models
Feedback for the Twin, where we'll look for ways of pursuing intelligent automation in the field to scale sensing and action for Ag, with a focus on achieving human-like dexterity in interactions with plants and soil.
Thrust 2 (T2): Model Deployment
We will build AI theory and algorithms that transform crop development via in silico breeding, and AI-enabled decision-support tools that reduce resource utilization while managing risk. We consider the deployment of digital twins in two main Ag applications. The first focus enables the speeding up of breeding for resilient crops that can withstand the challenges of an ever-increasing and variable environment. Secondly, we will deploy ultra-high precision digital agriculture for sustainable and profitable crop production. Currently, we will focus our research on corn and soybean.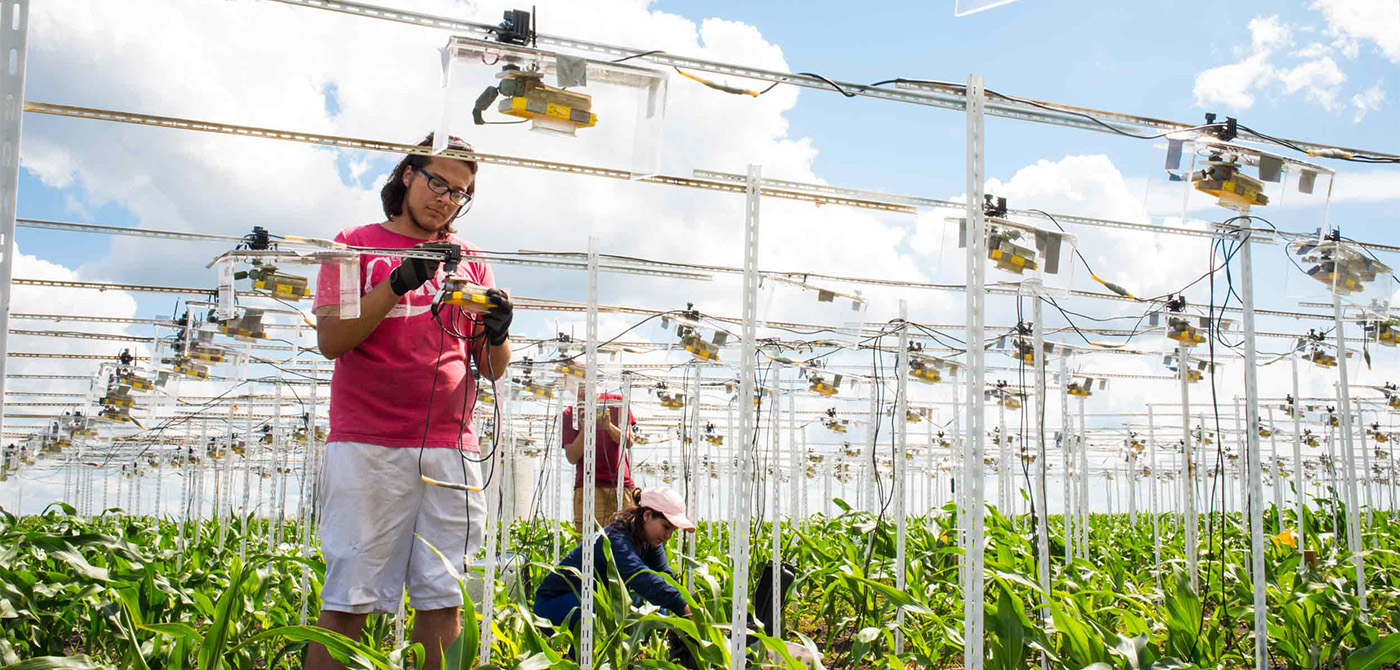 Stationary cameras deployed in the field taking photos of corn plants every 15 minutes
Thrust 3 (T3): Model Adoption
We will involve all the stakeholders in the innovation process in order to address their concerns and enhance thrust through translational research practices where AIIRA stakeholders participate at key stages of the development process to share plans and findings and provide feedback, from the creation of the Digital Twins through its acceptance and adoption. These translational research processes will allow us to understand and take into account the values, concerns, and practices of decision-makers (i.e. farmers, consumers, and other stakeholders), resulting in Digital Twins innovations that are salient, thrusted, and actionable. Translational research will also inform on the most effective ways to educate the stakeholders about the innovation
Cross-Cutting Thrust 1 (CCT1): Validation
We will develop a suite of diverse agricultural applications for verification & validation (V & V) of AIIRA technologies and showcase and evaluate how the digital twin improves the resiliency of breeding and production.
Cross-Cutting Thrust 2 (CCT2): Cyber-Infrastruture
Sierra (a.k.a. CI-AIIIRA) will provide the cohesive, cloud-based cyberinfrastructure for all AIIRA thrust areas to reproducibly share and manage their data assets and analysis workflows. Sierra will serve as the gateway to explore and experiment with AIIRA generated digital twins, methods, and data through popular data science tools and platforms.
---
Broadening Participation (BP)
AIIRA's diverse and inclusive group will continue to cultivate a culture of inclusive excellence across all aspects of the project to support our broadening participation goals. Our approach starts from recruitment practices through onboarding and training practices, and extends to our communication and teamwork. In conjunction with the AIIRA learning community, inclusive excellence will be ingrained in our mentoring and advising practices.
AIIRA is uniquely positioned to positively impact the Native American community - a traditionally under-served community. We also build on our strengths to increase the participation of women in the AI-Ag ecosystem. These serve as our signature activities. Additionally, AIIRA leverages and expands upon the sustained efforts of our members and partners to reach an array of underserved communities. For instance, the data and software carpentries provide training in computing and data science and reach thousands of participants each year. This will provide a streamlined vehicle for AIIRA broadening participation activities.
---
Education and Workforce Development (EWD)
AIIRA's perspective on education and workforce development starts with a vision. We believe advancing AI in agriculture requires a skilled and diverse workforce capable to do today's work as well as to imagine the future and get us there.
To bring current scientists, engineers, farmers, and industries into a data-driven reality requires access to new ideas, skills, and tools envisioning our education and workforce development effort as a pathway that targets learners across all academic levels into the new discipline of Cyber Ag Systems.
The universities involved in AIIRA have been providing education across all these levels and disciplines for some time. We are uniquely positioned to define how to educate the Ag workforce of the future through signature educational activities that form an integrated pathway for Cyber Ag Systems.

AIIRA K-12 Urban Robotany Signature Activity
---
Collaboration and Knowledge Transfer (CKT)
AIIRA will create a learning community to deeply integrate collaborative research across disciplines. This will serve as the socio-technical infrastructure that enables collaboration and knowledge sharing for the project. Our convergent team science approach will create a common ground and expectations among the team members. This is crucial to create an inclusive culture. Different team members will lead regular meetings to educate others about their field and to identify connections to other community members. The outputs of this learning community, such as short tutorials, syllabi, and other curricular material (e.g. case studies), will be easily incorporated in other classes, workshops, and development activities.